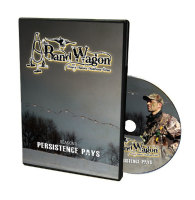 Join Heavy Hauler Outdoor Gear with family and friends as we again travel throughout Canada and the United States taking on all manners of chaos in search of exciting waterfowl action in season two of The Band Wagon.
The Band Wagon crew, both new and old, tears it up north of the border as  the journey lead us there twice along with great hunts and good fun wherever the birds were plentiful.  Witness some amazing in your face duck hunts, goose hunts we all live for, and see MORE birds in one location than you can imagine on a frigid late season hunt.
Enjoy an hour and a half of smoke filled skies and feathers adrift.   Running out of gas, frozen locks, battles with mother nature, and more wouldn't stop the hunt.  With the right group of guys and never give in attitudes you'll see despite it all there's no doubting……PERSISTENCE PAYS.